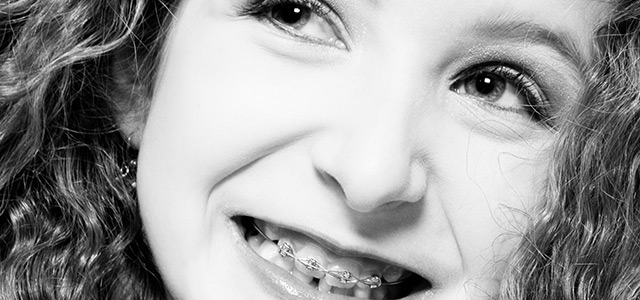 It's time for braces! Ah, that time-honored tradition of adolescence so many of us recall … so well. Metal-mouths, tons of tiny little rubber-bands all over the place, and that feeling of not wanting air to touch your teeth on adjustment days … yes, braces. Don't you miss it? But, oh, wow – what gift we were provided when they were finally removed. "Straight teeth! I finally have straight teeth!" We know you said that.  Yes, braces can be a pain, but the results are worth it, and if you're considering braces for your teen, you'll no doubt find the choices astonishingly different than when you were a teenager.  Heck, now braces can even be invisible! Darn lucky kids. Technology has been kind to orthodontics over the years – let's take a look at the kind of choices you and your teen will have moving forward.
What's "New" in Braces?
Most likely if you're the parent of a teenager, you've already made periodic visits to an orthodontist since your youngster was around the age of seven, so you and your teen may already have a good idea as to what they're looking for in a pair of braces. But even they might be surprised to know of some of the latest offerings in orthodontic care, including braces that come in different shapes, for example, like stars, footballs, and hearts – who would have dreamed of putting little tiny footballs on your teeth twenty years ago? The offerings are as varied as the orthodontists who do all the work.
Here are a few of your current options:
Metal Brackets: Good, ol' fashion metal – probably just like those you wore when you were a kid. These braces usually require the use of bands, which, of course, these days come in a rainbow of colors. Those allergic to the nickel in some brackets can chose from those made of gold-plated stainless steel instead. How's that for fancy?
Viazi, or Viazis Brackets: These brackets are often referred to as "fast braces," because unlike traditional metal brackets, the Viazi method adjusts both the crown and the root simultaneously, while traditional brackets move the crown in the first year, and the root in the second. Viazi brackets are triangular in shape, in part, to accomplish this task.
Lingual Braces: This system places all the metal and wiring behind the teeth so the front of the tooth is obstruction free. The choice is often cosmetic, and like regular metal braces, they can irritate areas of the mouth that come in contact with the metal.  Unlike regular braces, however, the tongue is affected by this irritation with lingual braces, and the braces themselves can interfere with speech. Also, not all orthodontists have been trained in the installation of this system, so you would need to locate one with the certification.
Ceramic Braces: As you might imagine, ceramic braces are in fact made of ceramic composite materials. The biggest advantage to this type of bracket is they tend to blend in with your teeth and are less noticeable. A famous guy named Tom Cruise wore this type of braces. Like traditional brackets, they do require ligatures (bands) as well.
Self Litigating (Damon Brackets): While Viazi braces are known as "fast braces," Damon Brackets have been called "speed braces." Damon brackets also work without the need for ligatures and are smaller than metal brackets.  They are however, only used in certain circumstances – your orthodontist can suggest whether your teen is a good candidate.
Invisalign®: This system is actually an "aligner" instead of a permanent set of braces, and is used in cases where a teen has crooked teeth and not teeth that need significant adjustment. They are considered to be nearly invisible as the name suggests, and thus have a big cosmetic advantage over traditional systems if your teen were to be eligible for such as system, and so inclined.
With each passing year comes new advances in orthodontistry, so we should expect this list to expand as the profession expands. Share it with your teen and talk about these options with your orthodontist. Before you know it, your teen will be braces-free and on to the next challenge in life!